The Angle has been revived, in a new form and with a different scope, as Angles, with submissions from around the world and dedicated student editors at Fisher!
New Angles site: https://projects.sjfc.edu/angles/
The Angle was a student literary magazine published at St. John Fisher College, beginning in 1956 and discontinuing in 2011.
Current Issue: Volume 2011, Issue 1 (2011)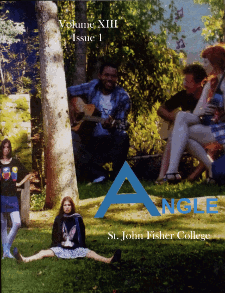 Editor
Gina Cardarelli
Student Advisor
Amanda Marchese
COP Officer
Maria Loudis
Review Committee
Graham Wilcox
Amanda Marchese
Gina Cardarelli
Faculty Advisor
M.J. Iuppa
Originally published as: Volume 13, Issue 1, 2011.
Cover artist not identified.