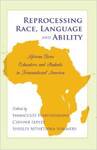 Title
Reprocessing Race, Language and Ability: African-Born Educators and Students in Transnational America
Description
This book explores the unique experiences of African-born educators and students in North American K-12 classrooms, as well as those of education faculty and administrators. It identifies the conflicting attributes that African-born educators and students bring into American schools and the challenges of working in linguistically, racially and culturally regulated educational spaces. The collected essays examine how attributes assigned to immigrant teachers by the host community of students, colleagues and administrators can serve both as conduits and deterrents for effective teaching. In all, Reprocessing Race, Language and Ability uncovers the existence of unavoidable - though not insurmountable - racial, cultural and linguistic dissonance when African and western cultures come in contact.
--Publisher description.
Publisher
Peter Lang Publishing Inc.
Recommended Citation
Ikpeze, Chinwe; Harushimana, Immaculée; and Mthethwa-Sommers, Shirley, "Reprocessing Race, Language and Ability: African-Born Educators and Students in Transnational America" (2013). Fisher Bookshelf. 43.
https://fisherpub.sjf.edu/bookshelf/43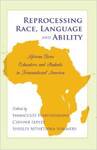 Additional Files
COinS