The Seneca Falls Dialogues Journal is a multidisciplinary, peer reviewed, online journal that grows out of the Biennial Seneca Falls Dialogues conference. See the Aims and Scope for a complete coverage of the journal.
Current Volume: Volume 4 (2021) Disrupting the Past, Questioning the Present, Building the Future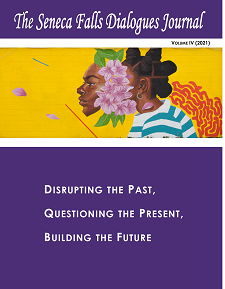 Editors
Lisa J. Cunningham, PhD, St. John Fisher College
Mary E. Graham, PhD, Syracuse University
Jill Swiencicki, PhD, St. John Fisher College

Managing Editor

Pat Maxwell, MLS, SUNY Brockport
Cover Image
Cover image "Girl with Flowers" used with permission of the artist Brittany Williams. Contact WALL\THERAPY for more information.