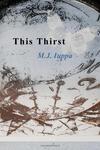 Description
This Thirst is a stroll down a country lane one thinks they know, yet there are surprises at every turn. These poems are grounded in wind, in water, and in landscape, and then take flight into the sublime. Iuppa's keen eye overturns every stone to look, unflinchingly, at what is revealed. Her deeply introspective verse examines the intricacies of life—and beyond—asking only that we "relish all that waits patiently to be noticed before darkness comes." And relish we do, as Iuppa has composed an array of imagery that compels us to confront the beauty, mystery, joy, and regret that comprise our unquenchable thirst for this life.
~ Carol McMahon, teacher and poet, has work published in various journals (IthacaLit, The Wild Word, The Ekphrastic Review, Prodigal, Claudius Speaks, Clockhouse) and a chapbook, On Any Given Day, published by FootHills Publishing.
This Thirst offers entry into a vibrant world that is personal, exquisitely observed, and universal in its significance. M.J. Iuppa is a poet of the intimate—meaning that which is closest to her, the near and the small that might not otherwise catch our attention, but on which our inner lives are built. What is more valuable than what you see, hear, touch and feel—what you live with daily, internally as well as in the external world? Iuppa's distinct gift is to trace the line which runs between these realms. These wonderful lyric poems surprise and delight again and again with their delicate understanding of the depth of the transient. Their scope inverts and connects the largest and smallest things, as in "Delta," when the poet walks an icy Lake Ontario shore, her home country, declaring: "O quiet industry of weather/here pyramids are built in a day," and ends: "If I knew what happens next, / I could give up." This Thirst is ultimately a buoyant collection. It's about survival. It humanizes time. It will renew your own sense of what life is in its very passing.
~Stan Sanvel Rubin, founding Director, The Rainier Writing Workshop low residency MFA, author of four full length collections, including the Barrow Street Poetry Book Prize-winning Hidden Sequel (2006) and There. Here. (Lost Horse Press 2013).
Publication Date
11-19-2017
Recommended Citation
Iuppa, M.J., "This Thirst" (2017). Fisher Bookshelf. 67.
https://fisherpub.sjf.edu/bookshelf/67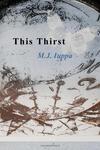 Additional Files
COinS