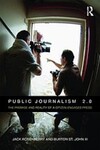 Title
Public journalism 2.0 : the promise and reality of a citizen-engaged press
Description
Where does journalism fit in the media landscape of blogs, tweets, Facebook postings, YouTube videos, and literally billions of Web pages?
Public Journalism 2.0 examines the ways that civic or public journalism is evolving, especially as audience-created content—sometimes referred to as citizen journalism or participatory journalism—becomes increasingly prominent in contemporary media. As the contributors to this edited volume demonstrate, the mere use of digital technologies is not the fundamental challenge of a new citizen-engaged journalism; rather, a depper understanding of how civic/public journalism can inform citizen-propelled initiatives is required.
Through a mix of original research, essays, interviews, and case studies, this collection establishes how public journalism principles and practices offer journalists, scholars, and citizens insights into how digital technology and other contemporary practices can increase civic engagement and improve public life. Each chapter concludes with pedagogical features including:
* Theoretical Implications highlighting the main theoretical lessons from each chapter,
* Practical Implications applying the chapter's theoretical findings to the practice of citizen-engaged journalist,
*Reflection Questions prompting the reader to consider how to extend the theory and application of the chapter.
Department
Communication/Journalism
Publication Date
12-16-2009
Recommended Citation
Rosenberry, Jack and St. John, Burton, "Public journalism 2.0 : the promise and reality of a citizen-engaged press" (2009). Fisher Bookshelf. 57.
https://fisherpub.sjf.edu/bookshelf/57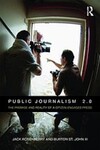 Additional Files
COinS