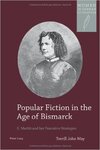 Title
Popular Fiction in the Age of Bismarck: E. Marlitt and her Narrative Strategies
Description
E. Marlitt was a bestselling author of the late nineteenth century whose romance novels dominated the German literary market between 1865 and 1888. Her novels appeared in thirty languages, with as many as five different English translations circulating simultaneously in the United States alone. While her name is virtually absent from histories of German literature, recent scholarly studies of individual novels suggest the need to reassess her contributions.
This study is the first in English to examine E. Marlitt's complete fiction. It situates her prose against the backdrop of women's discourse and nineteenth-century historical developments in the German Empire. It synthesizes findings of both American and German scholarship to show how her social constructs advanced a liberal political agenda while resisting the conventional view of «natural» gender roles. The book provides a context for recognizing Marlitt's clever use of the conventionality and acceptability of the romance genre to reposition the image of middle-class women. Her emphasis on personal autonomy, educational opportunities and new fields of professional engagement for women advanced altered images of family, class and national identity. Ultimately, this study of a popular author illuminates domestic, middle-class issues that underwent significant transformations equal to the Empire's public developments under Bismarck's politics.
--Publisher description.
Department
Modern Languages and Cultures
Publisher
Peter Lang International Academic Publishers
Disciplines
German Literature
Recommended Citation
May, Terrill John, "Popular Fiction in the Age of Bismarck: E. Marlitt and her Narrative Strategies" (2014). Fisher Bookshelf. 47.
https://fisherpub.sjf.edu/bookshelf/47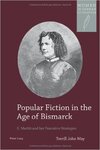 Additional Files
COinS