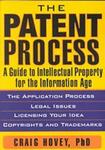 Title
Patent Process: Intellectual Property in the Information Age
Description
A simple, straightforward guide to the ins and outs of the modern patent process

In the information age, intellectual property is often as valuable as-- if not more valuable than-- any physical asset a company or an entrepreneur can possess. But protecting your intellectual property is vitally important to your future success, no matter how brilliant your idea.

Large businesses and corporations typically have their own patent attorneys to deal with intellectual property issues-- a luxury most small businesses and entrepreneurs can't afford. If you have intellectual property to protect, but you lack the resources of a major company, then The Patent Process is for you. Written for individuals, entrepreneurs, and small companies, it provides readers with a solid introduction to patents and other forms of intellectual property, without becoming exhaustive and overly complicated. It clearly and concisely explains the things you need to know to understand the patent process and make it work for you. It features an overview of the history and the primary issues in intellectual property, as well as a section that answers common questions about the patent process. Illustrative case studies are included to highlight important issues, such as:
* Patents, copyrights, and trademarks-- what they are, what they do, and which one you need to protect your intellectual property
* The application process for patents, trademarks, and copyrights
* Foreign patents-- protecting your intellectual property abroad
* The financing, licensing, and sale of patents
* Trade secrets and how they differ from patents

Creators of intellectual property want to focus on what they do best-- create and innovate -- rather than deal with the technicalities of patents and copyrights. The Patent Process offers an in-depth treatment of the core issues in intellectual property designed to help individuals protect their ideas and navigate the system to best effect.
Publisher
John Wiley & Sons
Disciplines
Intellectual Property Law
Recommended Citation
Hovey, Craig, "Patent Process: Intellectual Property in the Information Age" (2002). Fisher Bookshelf. 33.
https://fisherpub.sjf.edu/bookshelf/33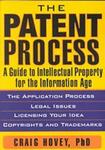 Additional Files
COinS