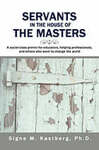 Title
Servants in the House of the Masters: A Social Class Primer for Educators, Helping Professionals, and Others Who Want to Change the World.
Description
Change the world! Why not? Social class is an under-recognized sorting mechanism in the United States that determines where you will go to school, whether you will go to college, and if you will work in a professional career or a low-level service position.
Find out why meritocracy is the favored myth in the United States. If you think that anyone can get ahead with hard work, talent, and motivation, read on! You may be kidding yourself.
One person can make a difference … and that one person is you. Discover strategies to level the playing field and create equal opportunities in educational environments and other organizations for deserving youth and adults from lower social-class backgrounds. -- Amazon Description
Department
Mental Health Counseling
Publisher
iUniverse, Inc.
Disciplines
Social History
Recommended Citation
Kastberg, Signe M., "Servants in the House of the Masters: A Social Class Primer for Educators, Helping Professionals, and Others Who Want to Change the World." (2007). Fisher Bookshelf. 30.
https://fisherpub.sjf.edu/bookshelf/30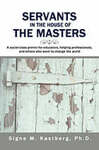 Additional Files
COinS